More distractions...
I only did this here because I'm seeing all the blogspot folk do it and I'm sure nobody there sees my other blogs...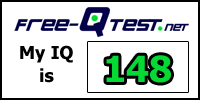 Free-IQTest.net -
Free Online IQ Test
By the way, the damn thing will ask you 50 million times to do surveys and other spammables after the test. Be sure you feed it false info, but it apparently checks to make sure that street names exist in cities.
As far as the test goes, not bad for 4 hours of sleep.